If there is one word that sums up everything Produlith does, it would be speed.
It is difficult to boil down everything the company does to such an extent; its extensive service offering includes packaging manufacturing, printed prototyping, labelmaking, flexo and offset printing, die-cutting, gluing, a full prepress service, and an impressive suite of graphic and structural design services for the pharma, food, beverage, health and beauty, and commercial sectors.
But everything about Produlith, from its rapid growth into a powerhouse of the Canadian packaging sector to its enviable turnaround time for jobs, is focused on an impressive level of speed that never compromises the quality of its products.
This could be a symptom of its location; while it has flitted around the Quebecois suburbs several times during its four-decade history, it has never strayed too far away from Montreal. Currently located in Boucherville, on the opposite side of the St Lawrence River to Canada's leading technological city, Produlith has quickly grown from a small printing house into what president Shawn Desmarchais describes as a "one-stop shop" for all things print and paper-based packaging.
"We consider ourselves to be unique"
"We can provide folding cartons, labels, and flexible packaging, while also guiding clients through the graphic design and structural design process," Shawn explains. "We control all our production and services under one roof."
Shawn has been president since 2006, when he took over from his father and company founder, Paul. The company was founded as Produlith Enterprises in 1981, with a small site in the city of Longueuil. Its rapid growth meant it moved to larger sites twice within the next ten years. Following Shawn's appointment as president, the company's ambitions grew further as it expanded into wider aspects of the packaging industry, including design, die-cutting, gluing, and prepress services. Now, it exists as a genuine competitor of many of North America's much more long-standing companies; a jack-of-all-trades that has managed to master them all.
So, what is the secret to Produlith's continued success in a number of highly competitive categories?
"The heart of the company relies on the quality department that ensures all jobs are properly run to our customers' standards," Shawn says. "We tend to target mid to large corporations who value high standards of production. These clients have specific quality standards that our quality department must deliver on.
"We consider ourselves to be unique in our one-on-one approach with whoever we talk to – we value the human relationships we build with our customers and suppliers."
This versatile, customer-led business model would not be effective without technology in place to support it. It means that Produlith needs to be able to trust its suppliers to deliver a solution that ticks all its boxes, while providing a genuine upgrade in production speed and capacity.
BOBST was the only choice
When the time came yet again for the company to boost its capacity further, it decided to acquire a new folder-gluer and die-cutter at the same time – a sizable investment. True to form, what could have been a painstaking process was handled very quickly – in large part because Shawn already had confidence in where to look.
"BOBST was the only provider we looked at," he confesses. "We were looking for reliable equipment at the cutting edge of packaging technology, and due to the reliability, service, and reputation of its equipment, BOBST checked all our boxes."
The relationship between Produlith and BOBST goes back many years. Just as Shawn is proud of his company's commitment to one-on-one, bespoke service, BOBST also has a long history of going the extra mile to build relationships and support its customers. It is a similarity that is not lost on Shawn.
"Our relationship has always been very special to us. We are always treated so nicely," he adds. "My wife and I were even invited to visit BOBST HQ in Lausanne a few years ago, and we were received with such class. The BOBST team is incredible and is always there to help. The equipment is just as reliable and is very high-tech.
"When we realized we needed new machinery, we contacted our representative Rob [McGillis, Sales Manager at BOBST North America] to open discussions and talk about the different options available to serve our needs."
Commitment to quality is key to success
Those needs were ultimately met with two new solutions; BOBST NOVACUT 106 ER die-cutter and VISIONFOLD 80 folder-gluer. "Purchasing two big machines in the same year has been challenging," admits Shawn, "but we knew the features of both would be very much worth it."
The Produlith team was given a crash course in both machines to ensure operators were familiar with the controls and capabilities of the new equipment. As a result, the company that has grown accustomed to speed is now going faster than ever.
When asked what he can now offer his customers that he couldn't before, Shawn's answer is simple. "Better quality and better lead times," he says. "The machines perform extremely well at speed, offering us great agility and control. This allows us to bid on larger volumes of production and be more competitive in our approach with customers."
The new machines also offer more than a simple speed boost – they unlock all-new possibilities for Produlith to exploit. "We will be installing an automated vacuum to the NOVACUT to increase recycling while dividing different cartons automatically," explains Shawn. "This is a great sustainability initiative we can work on, made possible because of BOBST."
In an industry where growth can be slow and precarious, Produlith is a shining example of what is possible with drive, ambition, and a commitment to quality. What started as a small family business now has over 65 employees serving more than 150 customers across the Americas in a wide range of market sectors. Shawn is in no hurry to abandon the things that helped bring his company to the table in the first place. This includes his choice of machinery solutions, too.
"BOBST is the top manufacturer of equipment in the packaging industry," he states. "You will never have more reliable equipment or better service."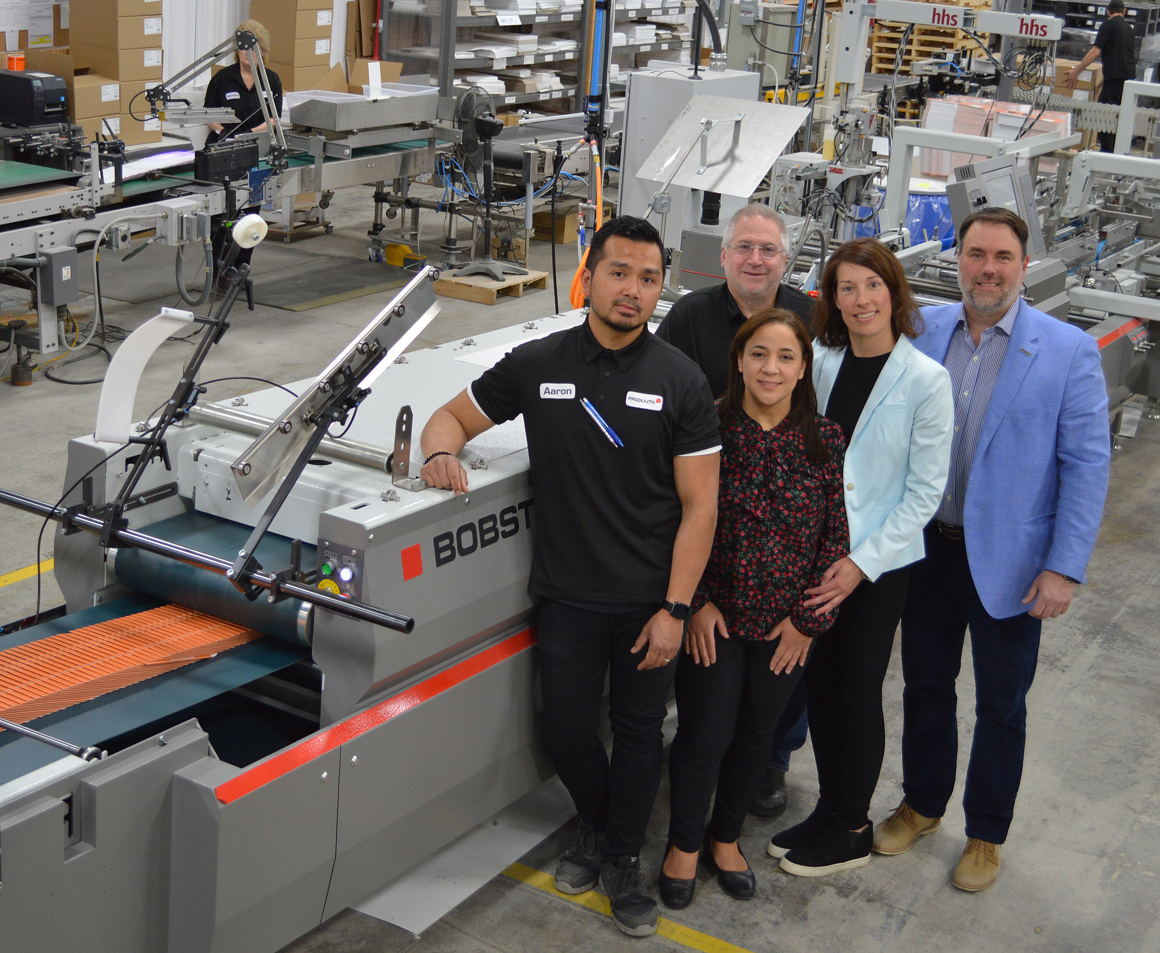 From left to right: Aaron Chap, Bruno Lemay (behind), Farida Belarbia, Annick Garcin and Shawn Desmarchais (President)